Exhibitions
Gabriele Münter. Pioneer of Modern Art
January 29, 2022 to May 8, 2022, Zentrum Paul Klee, Bern
The exhibition Gabriele Münter. Pioneer of Modern Art, which the Zentrum Paul Klee is currently showing, is the first major retrospective of Münter in Switzerland.
The exhibition is a collaboration with the Gabriele Münter and Johannes Eichner Foundation and the Städtische Galerie in the Lenbachhaus and Kunstbau Munich.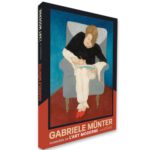 Accompanying this exhibition a comprehensive documentary film was produced by Arte, based on interviews and personal writings.
The DVD of the documentary film is available here.
In the summer of 2023 the exhibition will be shown in a modified form at the Museo Thyssen-Bornesmisza, Madrid.
Film release
Vassily Kandinsky & Gabriele Münter, passion et révolution
A documentary film from the collection Duos d'Artistes by Catherine Alvaresse and Julie Grivaux. The filming took place at the Münter House and at the Lenbachhaus.
The film broadcast will be on France 5.