Current Exhibition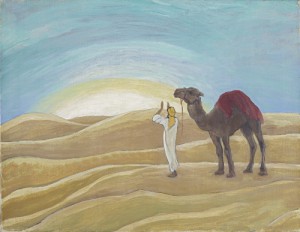 "In Search of Creativity's Roots"
"Primitivism" in the Work of Gabriele Münter
Closes September 1, 2019
Like many of her contemporaries, Gabriele Münter sought to get closer to the "sources" of human creativity by engaging with the world of children, folk art, and extra-European cultural objects. They represent some of the key elements guiding her art after 1908. The inspiration she drew from these cultural phenomena and artifacts underpins the small selection of works at the Münter House, some of which have never been shown publicly.
The small show originally complemented the comprehensive exhibition "Gabriele Münter: Painting to the Point" at Städtische Galerie im Lenbachhaus in Munich (October 31, 2017 – April 8, 2018), at Louisiana Museum of Modern Art in Humlebæk/Denmark (May 3 – August 19, 2018) and at Museum Ludwig in Cologne (September 15, 2018 – January 13, 2019).

The "Gabriele Münter: Painting to the Point" exhibition catalogue, by Isabelle Jansen, is available from the Städtische Galerie im Lenbachhaus online shop.
Upcoming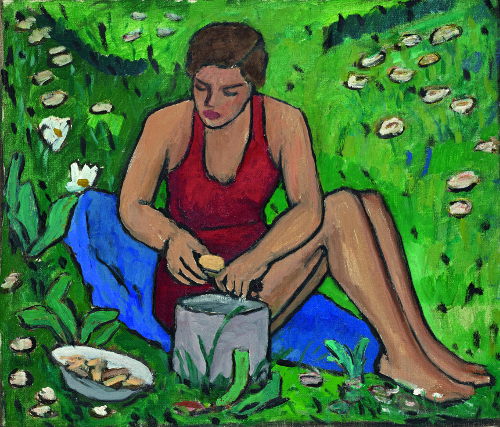 Gabriele Münter Invites
The Münter House as a Site of Encounter
Opening: Fall 2019
The Münter House in Murnau is well-known as a birthplace of modern art. Gabriele Münter and Wassily Kandinsky often stayed here for extended periods between 1909, the year when the house was bought, and 1914. Münter made the breakthrough to a new pictorial language in Murnau, and via the landscape motifs Kandinsky undertook the transition to abstraction.
Fellow artists were also frequent guests here. In fall 1911, for example, the editorial meetings for the now famous almanac Der Blaue Reiter took place at the Münter House, to which Kandinsky invited Franz and Maria Marc as well as August and Elisabeth Macke. After World War I, on Münter's return from Scandinavia in 1920, the house in Murnau served as an important place of retreat, although her life did not yet center on it—not until 1931 did she take up permanent residence in the Murnau house. Her partner Johannes Eichner also moved there a few years later.
The new presentation will embrace all the rooms in the Münter House, displaying it as a lively meeting place not only before World War I but also in subsequent decades. A selection of Münter's paintings and photographs of diverse periods will focus on the house as a site of artistic creation, encounter, and exchange.
Past Exhibitions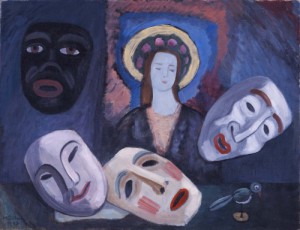 New Paintings by Gabriele Münter in the Münter House in Murnau
From December 2013 to September 2016
For the first time since the reopening of the Münter House following a major renovation completed in 1999, a new selection of paintings by Gabriele Münter is on display there. All works form part of the estate of the artist, most of them have never been exhibited. Thematically, the works, which date from 1909 to 1943, refer to Murnau, to the Münter House and to the local folk art which provided a vital source of inspiration for Münter. This presentation reveals new and little-known aspects of Gabriele Münter's art.
"Die blaue Reiterei stürmt voran"
Picture Sources for The Blue Rider Almanac – The Vasily Kandinsky and Gabriele Münter Collection
From May 10, 2012, to December 1, 2013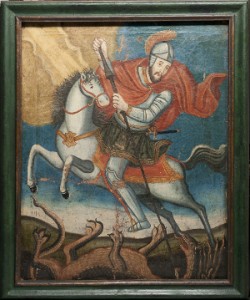 Edited by Wassily Kandinsky and Franz Marc, The Blue Rider Almanac appeared in May 1912. An exhibition is celebrating the hundredth anniversary of this event at the Münter House in Murnau where the working meetings for this seminal programmatic document of twentieth-century art took place.
The exhibition focuses on the principle of comparing pictorial materials from different periods and cultural milieus that was central to the Almanac. Apart from illustrative material collected by the editors Kandinsky and Marc, works from Gabriele Münter's and Wassily Kandinsky's private collection – South German votive tablets, Russian picture sheets, children's drawings, and non-European art – are on view for the first time.
As with the earlier exhibition Gabriele Münter und Wassily Kandinsky: Perlenstickereien und Textilarbeiten aus dem Nachlass von Gabriele Münter, the project aims at being a scholarly study of a hitherto unknown part of Münter's estate and at presenting it to the public in the context of an exhibition at the Münter House. The accompanying publication is therefore both a scholarly inventory and an exhibition catalogue.
Catalogue (€ 18)
16.5 x 21.5 cm, 112 pages
Published by the Gabriele Münter- und Johannes Eichner-Stiftung, Munich
Gabriele Münter and Wassily Kandinsky. Bead and Textile Works
From October 19, 2010, to April 15, 2013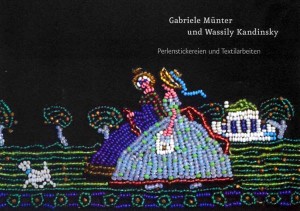 In the early years of the twentieth century Gabriele Münter and Wassily Kandinsky not only painted pictures but devoted themselves to other forms of expression such as textile works. They collaborated closely to produce small bead-embroidered bags and wall hangings designed by Kandinsky and executed by Münter. Sometimes these draw on the forms of art nouveau, or they stem from Kandinsky's personal pictorial world. Among these textile works in the Münter estate in the Gabriele Münter- und Johannes Eichner-Stiftung is a hitherto unknown painting on textile by Kandinsky. This work by Kandinsky was on view for the first time in an exhibition of embroidery and other textiles owned by Gabriele Münter at the Münter House in Murnau, and has been presented to the public in a publication. For the first time a special exhibition presented the two artists collaborating at their joint workplace, following a show of documents in 2009 dealing with the purchase of the house.
Catalogue (€ 15)
Published by the Gabriele Münter- und Johannes Eichner-Stiftung, Munich